our Central Location
Danville, VA

42 minutes

Greensboro, NC

58 minutes

Mount Airy, NC

63 minutes

Roanoke, VA

67 minutes

Christiansburg, VA

92 minutes
Move
to

Martinsville

to enjoy

our Central Location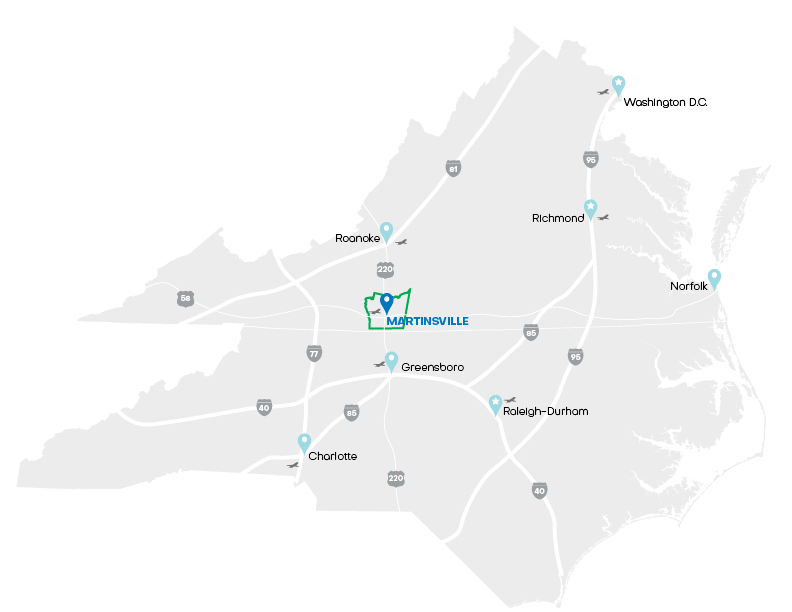 If you can't find it in Martinsville, you won't have far to go. We're centrally located, within a few hours of the coast and a short drive away from mountain vistas and scenic river valleys. The Roanoke metropolitan area lies an hour to the north, and the thriving Piedmont Triad area, with a population of 1.7 million, an hour to the south. Danville, a city of more than 40,000 with a major shopping mall and movieplex, is just over a half-hour to the east. Duke, Wake Forest, Liberty and two University of North Carolina campuses are all less than 90 minutes away. So are two international airports. But that doesn't mean it's all asphalt and bumper-to-bumper traffic. On the contrary, you'll find rolling hills and blue skies. Martinsville offers four distinct seasons with colorful leaves in autumn, a smattering of snow in winter and plentiful opportunities for outdoor recreation. You can go camping and hiking at picturesque Smith Mountain Lake or Fairy Stone Park, kayaking on the Smith River or a Sunday drive on the Blue Ridge Parkway, recently named the second-most-scenic highway in America.


regional attractions
---
Primland
Approximately 60 minutes
Primland is the ultimate luxury mountain retreat that offers beautiful accommodations, scenery and the opportunity to return to simple human pleasures. While visiting Primland you will enjoy refined dining, outdoor activities and world-class golf. And if you are as eco-friendly as they are, you can take comfort in knowing that you are staying at a retreat that was built to minimize their impact on nature.
---
Blue Ridge Parkway
Approximately 60 minutes to access point Milepost 121
The Blue Ridge Parkway is a ribbon of road 469 miles long that makes it way through Virginia and North Carolina allowing you to explore rich traditions. Become one of the millions of annual visitors to enjoy the Parkway. And while there, seize the opportunity to experience the varied and significant natural resources and learn why it is world-renowned for its biodiversity.
---
Chateau Morrisette Winery and Restaurant
Approximately 70 minutes
Chateau Morrisette is a family-owned and operated winery located in the heart of Virginia's Blue Ridge Mountains. When visiting, you will enjoy the rustic elegance of their restaurant, serving estate and regionally grown produce and beef. Spend the afternoon with them while enjoying wine, cider or Noble Fizz and learn why they are ranked among the top restaurant views in America. And if you're worried about your canine friend, don't be. Well-behaved dogs on leashes are welcome.
---
North Carolina Zoo
Approximately 1.5 hours
Nature is celebrated at the North Carolina Zoo. As the world's largest natural zoo, their 1,800+ animals have plenty of room to roam while being cared for by a dedicated team of experts who provide compassionate and exceptional care. But their care for animals doesn't stop there. Their belief that nature's diversity is critical for our collective future is one of the many reasons they lead efforts locally and globally to protect all wildlife. Stop by and witness the wild in the heart of North Carolina.
---
Carowinds
Approximately 2.5 hours
Carowinds has been right at the heart where North and South Carolina come together for over 45 years. Go spend some time with them and take a ride on one or all of their 14 world-class rollercoasters and enjoy the ultimate waterpark experience. And if it's food you're looking for, don't miss out on the opportunity to enjoy their authentic Carolina Cuisine. Carowinds, they have your ticket for family fun.
---
The Beaches of Virginia
Approximately 4 hours
If you love the ocean, be sure to head east and experience Virginia's picturesque coastline. Virginia's beaches offer beautiful scenery, waves, sand, sun and fun. There is plenty to do and see whether you're a family looking for lots of fun or a couple looking for a romantic getaway. And if quiet is your thing, no problem. Several of our beach communities offer the perfect environment for you to sit back and quietly relax. And while there, don't forget to enjoy the freshest and finest seafood brought straight to you from the Atlantic Ocean and Chesapeake Bay.
---
Roanoke Star & Overlook
Approximately 60 minutes
The Roanoke Star and Overlook is a must see. Illuminated every night with approximately 2,000 feet of neon tubing and sitting atop Mill Mountain, it is the largest, man-made, free-standing star in the world rising above Roanoke at a height of over 88 feet. At the base of the star is the overlook that offers an incredible view of the surrounding valley and Blue Ridge Mountains. Stop by and spend some time learning why it's one of the most photographed attractions in the region.